Born
c. 282
Alexandria, Egypt
Died
c. 307
Alexandria, Egypt
Venerated in
Roman Catholic Church
Eastern Orthodox Churches
Oriental Orthodox Churches
Anglican Communion
Lutheran Churches
Major shrine
Saint Catherine's Monastery, Mount Sinai
Feast

November 25

November 24

(Orthodox churches of Russian background)
Attributes
the "breaking wheel"; sword; with a crown at her feet; hailstones; bridal veil and ring; dove; scourge; book; woman arguing with pagan philosophers
Patronage
Unmarried girls, Aalsum, apologists, craftsmen who work with a wheel (potters, spinners, archivists, dying people, educators, girls, jurists, knife sharpeners, lawyers, librarians, libraries, Balliol College, Massey College, maidens, mechanics, millers, milliners, hat-makers, nurses, philosophers, preachers, scholars, schoolchildren, scribes, secretaries, spinsters, stenographers, students, tanners, theologians, University of Paris, haberdashers, wheelwrights, Żejtun, Żurrieq, Brgy. Sta. Catalina, San Pablo City, Philippines
Saint Catherine of the Wheel
Saint Catherine of Alexandria, also known as Saint Catherine of the Wheel and The Great Martyr Saint Catherine is a Christian saint and martyr who is claimed to have been a noted scholar in the early 4th century. 1,100 years later, Joan of Arc said that Catherine appeared to her many times.The Orthodox Church venerates her as a "great martyr", and in the Catholic Church she is traditionally revered as one of the Fourteen Holy Helpers.
Catherine was the daughter of Costus, a pagan governor of Alexandria. She announced to her parents that she would only marry someone who surpassed her in beauty, intelligence, wealth, and social status. This was an early foreshadowing of her eventual discovery of Christ. "His beauty was more radiant than the shining of the sun, His wisdom governed all creation, His riches were spread throughout all the world."
Catherine was born in Alexandria and raised a pagan, but converted to Christianity in her late teens. It is said that she visited her contemporary, the Roman Emperor Maxentius, and attempted to convince him of the moral error in persecuting Christians. She succeeded in converting his wife, the Empress, and many pagan philosophers whom the Emperor sent to dispute with her, all of whom were subsequently martyred. Upon the failure of the Emperor to win Catherine over, he ordered her to be put in prison; and when the people who visited her converted, she was condemned to death on the breaking wheel, an instrument of torture. According to legend, the wheel itself broke when she touched it, so she was beheaded.
According to Christian tradition, angels carried her body to Mount Sinai, where, in the 6th century, the Eastern Emperor Justinian established Saint Catherine's Monastery, Mount Sinai, the church being built between 548 and 565 in Saint Catherine, Egypt, on the Sinai peninsula. Saint Catherine's Monastery survives, a famous repository of early Christian art, architecture and illuminated manuscripts that is still open to visiting scholars.
Her principal symbol is the spiked wheel, which has become known as the Catherine wheel, and her feast day is celebrated on 25 November by most Christian churches. However, the Russian Orthodox Church celebrates it on 24 November, because Empress Catherine the Great did not wish to share her patronal feast with the Leavetaking of the feast of the Presentation of the Theotokos. Because she was Catherine the Great's patron, the Catholic Church of St. Catherine, one of the first Roman Catholic churches built in Russia, was named after Catherine of Alexandria.
St. Catherine was one of the most influential saints in the religious culture of the late middle ages, and arguably considered the most important of the virgin-martyrs. Her power as an intercessor was renowned, and firmly established in most versions of her legend, in which she specifically entreats God at the moment of her death to answer the prayers of those who invoke her name. The development of her medieval cult was spurred by the reported rediscovery of her body around the year 800 at Mount Sinai, with hair still growing and a constant stream of healing oil emitting from her body.
Ranked with St Margaret and St Barbara as one of the fourteen most helpful saints in heaven, she was unceasingly praised by preachers and sung by poets. It is believed that Jacques-Benigne Bossuet dedicated to her one of his most beautiful panegyrics and that Adam of St. Victor wrote a magnificent poem in her honour:
Numberless chapels were placed under her patronage and her statue was found in nearly all churches, representing her according to medieval iconography with a wheel, her instrument of torture.Saint Catherine became the patroness of young maidens and female students.
Looked upon as the holiest and most illustrious of the virgins of Christ after the Blessed Virgin Mary, it was natural that she, of all others, should be worthy to watch over the virgins of the cloister and the young women of the world. The spiked wheel having become emblematic of the saint, wheelwrights and mechanics placed themselves under her patronage. Finally, as according to tradition, she not only remained a virgin by governing her passions and conquered her executioners by wearying their patience, but triumphed in science by closing the mouths of sophists, her intercession was implored by theologians, apologists, pulpit orators, and philosophers. Before studying, writing, or preaching, they besought her to illumine their minds, guide their pens, and impart eloquence to their words. This devotion to St. Catherine which assumed such vast proportions in Europe after the Crusades, received additional éclat in France in the beginning of the fifteenth century, when it was rumoured that she had spoken to Joan of Arc and, together with St. Margaret, had been divinely appointed Joan's adviser.
St Catherine is called upon for relief and assistance during childbirth. Pilgrims to her monastery on Mt Sinai are given a ring, which has been placed on the relics of the saint as an evlogia (blessing) in remembrance of their visit.
Customs
On St. Catherine's Day, it is customary for unmarried women to pray for husbands, and to honor women who've reached 25 years of age but haven't married -- called "Catherinettes" in France. Catherinettes send postcards to each other, and friends of the Catherinettes make hats for them -- traditionally using the colors yellow (faith) and green (wisdom), often outrageous -- and crown them for the day. Pilgrimage is made to St. Catherine's statue, and she is asked to intercede in finding husbands for the unmarried lest they "don St. Catherine's bonnet" and become spinsters. The Catherinettes are supposed to wear the hat all day long, and they are usually feted with a meal among friends. Because of this hat-wearing custom, French milliners have big parades to show off their wares on this day.

The French say that before a girl reaches 25, she prays: "Donnez-moi, Seigneur, un mari de bon lieu! Qu'il soit doux, opulent, libéral et agréable!" (Lord, give me a well-situated husband. Let him be gentle, rich, generous, and pleasant!") After 25, she prays: "Seigneur, un qui soit supportable, ou qui, parmi le monde, au moins puisse passer!" (Lord, one who's bearable, or who can at least pass as bearable in the world!") And when she's pushing 30: "Un tel qu'il te plaira Seigneur, je m'en contente!" ("Send whatever you want, Lord; I'll take it!"). An English version goes,
St Catherine, St Catherine, O lend me thine aid
And grant that I never may die an old maid.
And there is this, a fervent French prayer:
Sainte Catherine, soyez bonne
Nous n'avons plus d'espoir
qu'en vous
Vous êtes notre patronne
Ayez pitié de nous
Nous vous implorons à genoux
Aidez-nous à nous marier
Pitié, donnez-nous un époux
Car nous brûlons d'aimer
Daignez écouter la prière
De nos cœurs fortement épris
Oh, vous qui êtes notre mère
Donnez-nous un mari


Saint Catherine be good
We have no hope
but you
You are our protector
Have pity on us
We implore you on our knees
Help us to get married
For pity's sake, give us a husband
For we're burning with love
Deign to hear the prayer
Which comes from our overburdened hearts
Oh you who are our mother
Give us a husband

... which is summed up more quickly in this, an English prayer:
A husband, St. Catherine
A handsome one, St. Catherine
A rich one, St. Catherine
A nice one, St. Catherine
And soon, St. Catherine
Another French saying is "A la Sainte Catherine, tout bois prend racine" -- "on St. Catherine's day, the trees take root." Gardeners know that today is a good day for planting trees...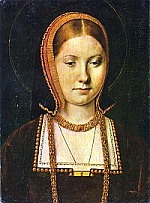 Now, because St. Catherine is the patron Saint of lacemakers, and because Queen Catherine of Aragon -- the first of Henry VIII's six unfortunate wives -- was also associated with lacemaking, it is a good day to think of the latter woman, too. The pious, Catholic Queen Catherine is said to have taught lacemaking to the poor of Ampthill while the divorce she fought all the way to Rome was pending, and she is also said to have burned all her lace only so she would have to order more, thereby keeping the poor lacemakers employed. In honor of the Saint and of the good Catholic Queen, "Cattern Cakes" are eaten today:
Cattern Cakes

2 pounds bread dough
2 oz lard or butter
1 oz caraway seeds
2 oz castor sugar
1 large egg

Prepare the dough, then knead in the lard or butter, caraway seeds, sugar and egg. When the ingredients are well mixed, divide in two, kneading one piece to fit into a 2 lb greased loaf tin. Divide the second piece into two and knead each half to fit a 1 lb loaf tin, then cover with a damp tea towel and leave to rise until the dough reaches the top of the tins. Bake 20-25 minutes at 400 degrees. Serve sliced and buttered.
If you have a trained pyrotechnician in the house, the lighting of the firework known as a "St. Catherine's Wheel" would be a very showy thing to do. A Catherine's Wheel is a long tube filled with powder and coiled around a wooden center which is attached to a stationary pole of some sort. When lit, centrifugal force rotates the coil very quickly, and as it burns, a wheel of colored flames, sparks, and smoke is produced. Other pinwheel-shaped objects are described as "Catherine Wheels," -- e.g., rose windows are called such.
St. Catherine's Monastery, Sinai
The burning bush in St. Catherine's Monastery. Photo: Templar1307.
St. Catherine's Monastery is an Orthodox monastery on the Sinai peninsula at the foot of Mount Sinai in Egypt. One of the oldest Christian monasteries in the world, St. Catherine's incorporates the burning bush seen by Moses and contains many valuable icons. Above the monastery is Mount Sinai (see separate article), where Moses received the Ten Commandments from God. Because God spoke to Moses in these places, this area is sacred to three world religions: Christianity, Islam and Judaism.
ST. CATHERINE OF ALEXANDRIA,HEROINE OF THE SPIRITUAL COMBAT
From a Lenten conference given by Father de la Tour to students
A recent survey among young people asked them to name their heroes. Of the top ten persons they regarded as "heroes," nine were movie stars ―movie stars, persons often of loose morals. No, these are not real heroes. It is good to have true heroes, and these we find among the saints.
One of these is St. Catherine. Usually when we hear this name, we think of St. Catherine of Siena, but there are other saints who bear this name, and St. Catherine of Alexandria, Virgin and Martyr, is one of them.
This St. Catherine has been a very popular saint, especially in the Middle Ages. In the 12th century the Crusaders returning from the East brought back her story and introduced devotion to her in Europe. She became patroness of maidens, women students, philosophers, preachers and apologists, wheel-makers and millers.
You will remember how, in the 15th century, St. Joan of Arc was guided by voices she heard. She had apparitions of the saints whose voices these were: St. Michael, St. Margaret, and St. Catherine.
It was at St. Catherine's of Fierbois, a shrine to the martyr, that St. Joan found her sword. She dug beneath the stone and found the old sword used by Charles Martel when he fought the Moslems, and which Joan would take in battle to free her French people from the English invaders.
Catherine was a young girl of 18 who had attended the schools of Alexandria in Egypt in the early days of Christianity. She was both holy and learned. And she was also brave. When she saw that Maximin, the local prince, was executing Christians, she boldly went to him and reproached his evil actions, shaming him by giving him many good reasons in support of the truths of the Christian faith. Maximin was amazed at her wisdom. He could not answer her arguments against his gods, so he tried to get her to give up her faith. He used three methods:
First, he gathered the most learned men from all parts of the country and promised them a reward if they could refute Catherine's arguments and lead her to give up her faith and worship idols. The men got up to convince Catherine of how man could be independent of the One True God. And what happened? Just the opposite of what Maximin thought. Catherine explained her points so well that many of the pagan philosophers who had come to refute her were so struck by the force of her reasoning that they became Christians ready to die for Our Lord!

When Maximin saw that his first attempt had failed, he then tried to seduce Catherine by flatteries. He also promised her many things of the world. "If you give up Christ," he said, "I will give you a fine house and riches." The first attack had been directed toward Catherine's intellect. Now, his second attack was more toward the passions of the young girl. But it failed as the first did.

Then Maximin tried finally to conquer Catherine by torture of her body. He had her scourged with whips which were tipped with lead. And then he locked her up in prison for 11 days without food or drink. Imagine 11 days without food! We are so weak if we fast without food for just one whole day.
During this time an amazing thing happened. Maximin's wife and Porphyrius, the leader of the army, went to see Catherine ―maybe out of curiosity ―and were converted by her ardent faith. Both of them later became martyrs.
Maximin was furious. He had Catherine brought to a wheel -she is usually shown in pictures with this wheel ―and the wheel had sharp knives attached around it. But at her prayer the wheel was broken. Seeing this miracle, many of the soldiers became Christians.
Maximin became more obstinate, and finally ordered to have Catherine beheaded and be done with her. She offered her head bravely to the sword, and at her death her soul went straight to heaven.
Catherine as a Model of the Spiritual Combat
The life of St. Catherine illustrates well the spiritual combat. She fought for God and won. We too have to fight for God, and we too hope to win this spiritual battle. We cannot avoid fighting against our enemies. The Holy Ghost told us, "none shall be crowned who has not fought well." Yes, life is a combat.
Our first enemy is the DEVIL who profits by our pride, our desire for independence from God. This is illustrated in St. Catherine's life by the pagan philosophers who tried to put false reasonings in her mind. But she defeated her enemies through HUMILITY. Let us imitate her when we practice obedience to God and to the persons over us to whom God gives His authority. Sometimes we think it is not so hard to obey God, but it is hard to obey the persons He puts in authority over us. But, by obeying them we draw humility from the meek and humble Sacred Heart Himself, and we crush the head of the devil.

Our second enemy is the WORLD which acts upon our selfishness, our desire for worldly success. Maximin attacked Catherine by flattering her passions. She overcame this enemy through PRAYER. Her soul was steeped in the interior life so she did not care for the world and all its riches. Let us imitate her by acquiring a good spiritual life. Practice some time of silence and recollection each day. This will be the best means to keep our mind turned toward the things of Heaven instead of getting wrapped up in the things of the world.

Our third enemy is our own FLESH, which draws us down through our desire for comfort. We hear the voice of our fallen nature, "Take it easy; don't be too hard on yourself. To become a saint is too difficult; God does not want you to go that far." Maximin tortured Catherine's body, but she was victorious through her LOVE for Our Lord. Let us imitate her in making an effort to be generous in our love for Jesus, rather than selfish in our love for ourselves. Love is the most powerful weapon against mediocrity. Love renders all things easy. To deny ourselves will not seem so difficult if we do it for Our Lord's sake.
So, during our life, let us be brave in the spiritual combat as St. Catherine was. Let us fight our enemies: the DEVIL, the WORLD, and OUR FALLEN NATURE with the weapons of HUMILITY, PRAYER, and GENEROSITY.
And if we pray to the Blessed Virgin often as her children, Our Lady ―Our Mother ―will give us the victory.
Related Post